KONSTRUKTOR RED club Ranna 21.04.2014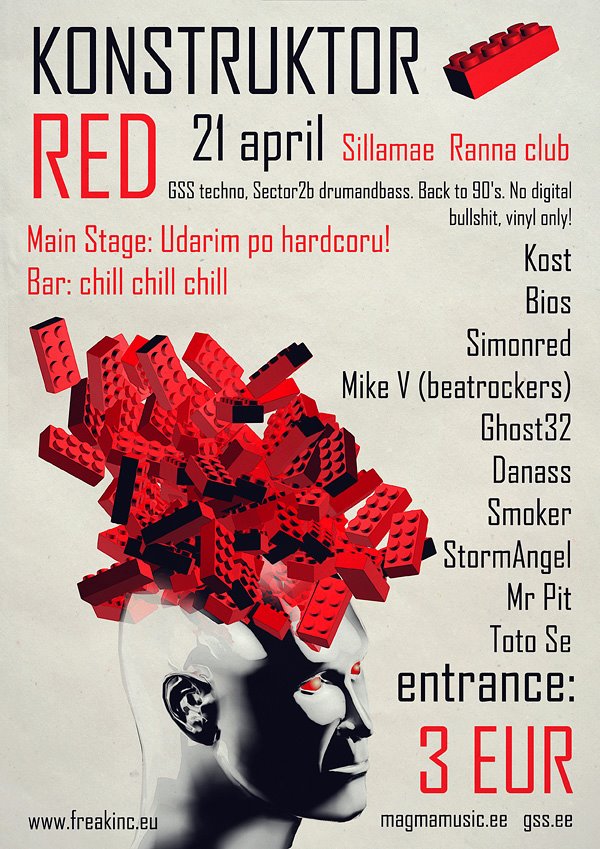 KONSTRUKTOR RED 21 April, Sillamae, Ranna Club
On the Stage: Kost, Bios, Cancel, Simonred, Mike V, Danass, Smoker, Ghost32, Storm Angel, Mr Pit, Toto Se.
Gss techno, Sector2b drumandbass. Back to oldie's. No digital bullshit, vinyl only!
Main Stage: Udarim po hardcoru!
Bar: chill chill chill
www.freakinc.ee     www.magmamusic.ee                                                                 Обсудить на форуме…
Ну что, Все готовы жарить котлеты и мочить корягу?
Представлять каждого участника лично, мы наверное, не будем, тк. в этом просто нет необходимости. Все эти люди старые друзья, которые когда то продвигали в клубе Ранна всевозможные мероприятия электронной музыки. В субботу, 21ого Апреля, мы собираемся, как бы немного возродить то настроение, которое впитали стены Клуба Ранна, еще в прошлом десятилетии. Многие диджеи начали играть в этом клубе с начала 2000-х, пронося свой багаж музыки через года, который при этом, умещался в нехилые рюкзаки набитые винилом. Наш же "Конструктор" будет собран из разных стилей электронной музыки, от хауса и брейкса, до неземного техно и драмэндбасса. В общем, Ждем всех друзей, знакомых и друзей знакомых в клубе Ранна, Силламяэ!!!
А да, вход, три евро, но возможно что будет 4. если чО, не удивляйтесь =)
http://simonred.com
Местоположение:
ranna club, Sillamäe (Силламяэ), Эстония
Начало:
21 апреля в 22:00